The spectacular Jewel Changi was officially opened by Singapore's prime minister on 18 October, celebrating six months since the soft opening earlier in 2019. During this time, the dining and shopping destination has received 50 million visitors (300 000 per day), exceeding the initial goal of generating 40-50 million visitors in the first year.
Although Jewel presents a fine selection of exciting new flagships like the 5-storey Apple Store and the biggest Nike store in Singapore, the F&B program is the real drawing power. The restaurant, cafe and bar line-up features a mix of home-grown and global F&B concessions who are putting their best foot forward to create exciting new dining concepts, according to our retail design blog.
---
JEWEL CHANGI AIRPORT FOOD: FAST FACTS
$1.7 billion joint venture between Changi Airport Group and CapitaLand
Located next to Changi Airport's Terminal 1
Soft opening on 17 April 2019
Official opening on 18 October 2019
90 000 sqm retail size, comparable to CapitaLand's Ion Orchard
280 shops with 112 F&B outlets
21 100 sqm of indoor gardens and attractions including the world's tallest indoor waterfall, the 40m-high HSBC Rain Vortex
RESTAURANTS AT JEWEL CHANGI: WHY THE FOCUS ON F&B?
The way to a Singaporean's heart is through their stomach, and since Changi Airport Group initially estimated 60% of the visitors will be locals, Jewel Changi's food offering was the key factor to engage their largest predicted customer group. With the highest retail space per capita in Asia, Singapore mall operators have been increasing the space for F&B tenants to make up for lost revenue through vacancy rates and rents that have reached their weakest point in the last 6 years.
According to Adam Summerville, lead partner at Ground Control, a specialised consultancy for the travel retail, hospitality and leisure sectors, the beauty of F&B tenancies in an airport location is that their captive audience allows them to become the 'destinations' at airports.
"This is even more pronounced in Asia which has always had a strong dining out culture and so it is not surprising that millennials in the region are foodies, with many sharing their dining experiences on social media and posting reviews online," Adam says.
---
DINING AT JEWEL CHANGI
Dining at Jewel Changi could be various and has so many options. So please find our TOP PLACES TO EAT in Changi Airport.
SHAKE SHACK (#02-256)
Shake Shack is one of the first places you'll see as you walk into Jewel Changi. On its opening day, dedicated Singaporeans started queueing up at 04:30 to get a taste of Shake Shack's legendary burgers. This is the brand's first outlet in Singapore and the Jewel Changi location includes Singapore-exclusive items on the menu to pay tribute to local flavours with picks like the Pandan Shake and the Jewela Melaka Concrete.
The two-level dining venue seats 90 customers on each floor. On the first level, a video wall displays locally inspired graphics to create a stunning visual effect and customers can enjoy a partial view of the HSBC rain vortex. The second floor is decked out in American diner-style booth seats and cool murals and lighting to offer a quiet spot away from the crowds below.
---
 STARBUCKS RESERVE  (#02-204)
The Starbuck flagship is a sight to behold. The hand-carved Starbucks Siren on the wall leading up to the second floor took Singapore-based artist, Sean Dunston, two months to complete. The design includes subtle references to Singaporean culture by using Peranakan patterns to decorate the Siren's brocade and tucking a Vanda Miss Joaquim orchid behind her ear. The effect of this eye-catching wall installation extends throughout the cafe with the wooden elements and multitude of indoor plants echoing Jewel's nature-centred design concept.
The first floor boasts with an interactive Reserve Coffee Bar manned by friendly baristas who are always up for a chat. Moving up to the second floor, the feature wall is fitted out with Starbucks Reserve labels. This level is also home to an Art Room that creates the feel of a luxurious airport lounge with its bespoke wall art and comfortable seats. Aside from the occasional function or workshop hosted here, the studio is open to anyone who visits the cafe.
---
IGER STREET LAB (#05-205)
As the first global concept store for this local beer brand, the Tiger Street Lab is an exciting new concept where visitors can experience seasonal Tiger brews paired with food from local collaborators. The lab has an interactive digital customisation panel installed next to the bar, where the touch of a button allows customers to personalise their own limited-edition Tiger beer and discover merchandise designed by local artists. An innovative, experiential concept that brings the best out of local brews.
---
PAZZION CAFE (#B1-243)
Pazzion Cafe is a lifestyle extension of the contemporary footwear brand, Pazzion, aiming to create a holistic shopping experience that adds dimension to their retail platform and encourages shoppers to engage with the brand. The interior is decorated in black and white tones and sets the mood for a modern-chic retro cafe with vintage props like a typewriter, telephone and metal globe. The seating area extends to outside the cafe, where customers have an unrestricted view of the iconic waterfall.
---
MUJI CAFE & MEAL  (#02-227/228/229)
The Muji store stretches over two floors, dividing the space into the retail area and the spacious in-house eatery. The lower level houses a collection of apparel, health and beauty products, travel items and food, continuing to the upper level where housekeeping items and living room, bedroom and kitchen products can be found. This floor also hosts the 88-seater Muji Cafe & Meal where customers can take a break in between their shopping.
Among Changi's top 10 markets in 2018, India and Japan registered the strongest growth, respectively rising with 12% and 10%. China and Vietnam followed shortly with an annual growth of 7%. To cater to its most dominant markets, Jewel Changi presents a strong Asian F&B offering ranging from dim sum specialists Din Tai Fung and Tim Ho Wan to local Michelin-starred roast specialist, Kam's Roast. Worth singling out is Shang Social, a contemporary restaurant-bar-retail space, where Chinese cuisine is reimagined through a showcase kitchen, classy cocktail bar, ice cream stand and a range of seating options. Does the name sound familiar? That is because this is the first standalone concept by the Shangri-La Hotel Group. 
SHANG SOCIAL ( #01-219 to 222)
The Shang Social group has a growing presence in China and is known for its amazing Cantonese, Huaiyang and Sichuan food. The restaurant can accommodate 200+ customers and is divided in three sections to offer different dining experiences. The casual 'Marketplace' area is a relaxed space with a theatrical kitchen setup where customers can watch chefs prepare the signature dim sum and noodle dishes. The 'Dining' section caters to upmarket diners with plush booth seats and chic hanging lamps. Lastly, the old-worldly bar is lit up with light orbs on brass stands and serves exquisite cocktails alongside Chinese tapas.
In a rush to buy some souvenirs before catching your flight? Jewel Changi Airport is home to many local staples like Bengawan Solo, Old Chang Kee, Bee Cheng Hiang and Rich & Good Cake Shop, all of which are sporting a refreshed look in their new outlets. 
BENGAWAN SOLO  (#01-228/229)
Bengawan Solo is a local confectionery chain who went for an upmarket vibe at its new Jewel Changi outlet where customers can feast on the signature selection of kueh found in outlets all over Singapore. Their usual no-fuss design was replaced by garden-themed interior elements to tie in with Jewel's backdrop. At the door, customers are met with a table decked out in kueh, and the cake display inside is framed by a trellis decorated with orchids. Visitors can head over to the demonstration section where they can watch the experts behind the counter create delectable treats like kueh lapis.
RICH & GOOD CAKE SHOP (#01-232)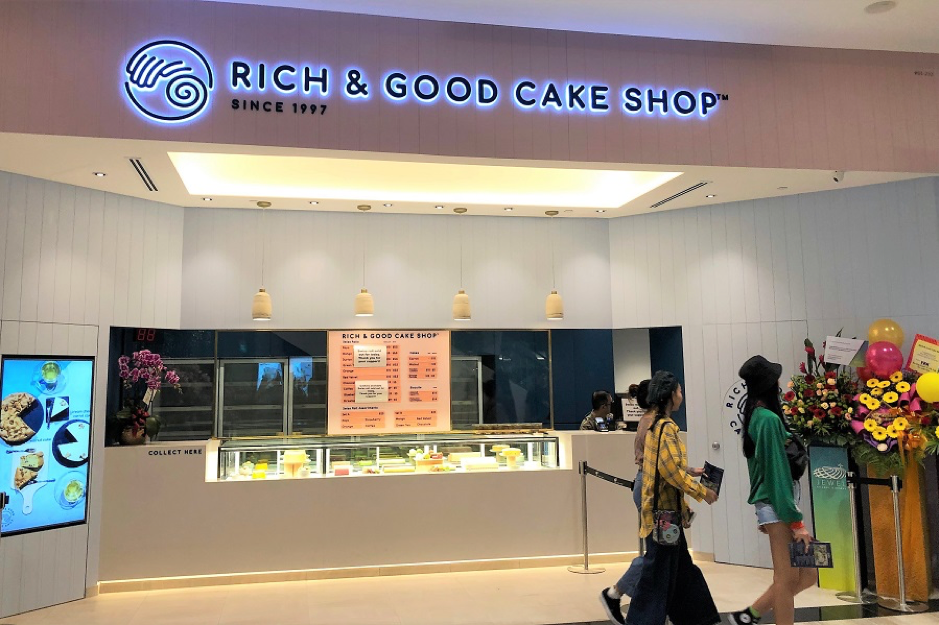 Rich & Good Cake Shop is a well-known name among Singaporeans. The popular swiss roll shop has been around for decades and took their rebranding strategy very seriously when they rolled out the new venue in Jewel. The entire look was reimagined – Millennial-ised, if you will. The sleek baby pink cake counter is rimmed with gold and LED screens were installed to display the shop's iconic cake flavours and trusted baking process. 10 flavours of the famed Swiss rolls are currently available, sold in two size variations.
Changi Food : a new challenge?
When Jewel Changi first opened its doors, it remained to be seen whether the ambitious goal of drawing 40-50 million visitors in the first year would be reached. But barely after the six-month mark, Jewel already exceeded its own expectations. The key takeaway from this experiential F&B journey is that social media is taking on a more significant role and influencing customers' decision making, meaning a successful dining destination isn't just about the quality of the food, but also the design, marketing, atmosphere and service. If you want to see how this idea plays out in the industry, a trip to the iconic Jewel will be well worth it in proving brick-and-mortar is still alive and kicking in Singapore.