In its 28th edition, the Singapore Retail Industry Conference & Exhibition has consistently delivered practical information, proven techniques and ground-breaking ideas that address hot topics and the latest strategies in the world of retail. Our retail design blog was lucky to participate in this conference.
In today's fast-changing retail landscape, "Instagrammable moments" are now part of many retail design briefs, where clients are requesting myself and my team to consider social media platforms when designing retail projects. I attribute this growing retail trend to the "Millennial moment", the coming of age of the world's two billion Millennials who with a combined spending power of $2.5 trillion, show no sign of slowing down. Their shopping habits can be a deciding factor in what makes or breaks the success and longevity of retail models. Retailers must be able to connect with this generation through the right shopping experiences and unique products if they want to capture the attention of the millennial shopper.
During my presentation, I shared with the audience what influences Millennials to purchase and what businesses can do to meet their tastes and expectations from a retail store design perspective.
IN THIS ARTICLE
• Who are the Millennials?
• Why is it important for brands to capture Millennials?
• How to capture the Millennial market?
• 5 key elements to incorporate into store design
WHO ARE THE MILLENNIALS?
Born between 1980 and 2000, the Millennials are aged around 19 to 40 years, overtaking Baby Boomers as the largest age demographic with a current population of 80 million in the US. The younger, equally digitally-driven generation of Gen Z comes in second. Shifting the focus to Asia Pacific, an estimated 60% of the world's Millennial population resides here, comprising about one quarter of the total Asian population. In Singapore, Millennials make up 22% of the overall population.
Millennials are experience-driven and are much more inclined to spend their money on unique and memorable events than any other generation. Their shopping-decisions are based on emotional needs, valuing products that make them feel good as opposed to the preceding Baby Boomers and Gen X who place greater value on quantity and numerically measurable wealth.
WHY IS IT IMPORTANT FOR BRANDS TO CAPTURE MILLENNIALS?
While it is commonly and stereotypically generalised that this generation's world orbits around their smartphones, stats show that half of Millennials still favour shopping in-store.
Shopping habits have started falling into the two categories of wants and needs, where 'wants' refer to experiences rather than possessions, blurring the lines between transaction and engaging customer experience.
With more than half a million 'influencers' active on Instagram, the predominant influencer culture among the digital community has immensely changed the way shoppers are motivated to make purchases. An Instagram-user with a large online following is equipped with much more commercial persuasive power than a person with years of industry knowledge but no online presence. What does this mean for brands? Essentially, Millennials are much more likely to invest in a product or service when they see a person with 'Instagram-credibility' promoting a certain brand. Instagram has 1 billion monthly active users, making it the third most popular social media platform following Facebook's 2 billion monthly active users and YouTube's 1,9 billion monthly active users.
Catching on to the consumers' active use of this platform, retailers and businesses have been making significantly more use of the massive Instagram-audience to share content and build their brand story. The Instagram-story feature poses great potential for this purpose, with 500 million daily active users of which one third of the most viewed stories are from businesses.

To accommodate the rising number of brands making use of Instagram, the app has been adding more business-focused features such as shopping posts where users can tap on an image to learn more about the products displayed. Although there are some mixed feelings whether Instagram should gear towards a transactional platform or rather remain a focused medium for sharing content, these new features have rapidly taken off with 130 million monthly users engaging with brands' shopping posts to learn more and make purchases.
HOW TO CAPTURE THE MILLENNIAL MARKET?
At Greater group, we've conducted an extensive study of the Millennial target market to design stores that best engage this generation. Based on our research, we have identified 5 key elements to incorporate into retail store design to keep Millennial shoppers coming back again and again.
1. PERSONAL TOUCH
Millennials value personalised communication and products tailored to their preferences. Digital means such as beacon technology allowing controlled interaction and sharable information can be very useful in achieving personalisation for customers.
Case Study: New Balance (Tokyo)
Greater group designed the New Balance Harajuku flagship store in 2015, tailoring the store design to place the spotlight on the brand's personalised sneakers with integrated technology such as the 'foot scan' feature to assist shoppers in finding their perfect shoes. On the front of practicality and convenience, digitally advanced POS-technology allows customers to seamlessly pay with their smartphones. Taking an experiential approach, the store design includes a community café where shoppers can take a break in between their shopping. The design of the café mirrors a running track – a creative, sporty touch to keep visitors immersed in the brand image of New Balance.
2. CONSISTENT BRANDING
With the rise of e-commerce, retail is at an interesting place where brands need to find their feet in a space that combines online and offline shopping to best engage Millennials shoppers. Seamless transition between online platforms and in-store shopping is key. 60% of shoppers discover new brands and items through Instagram and nearly 4 out of 10 users then visit physical stores related to these brands to do in-store shopping.
Case Study: Aesop
The Australian luxury skin care brand, Aesop, takes a hyper localised strategic approach to add a unique touch to every one of their different locations across the world. As one of my favourite brands, I have a great appreciation for their skilful retail execution in terms of integration between their different sales platforms while localising the design of each store. The online and offline branding has the same feel with a subdued palette and equally soothing environment to consistently carry out the brand message.
3. EASE OF NAVIGATION
Mirroring the easy access and clear wayfinding of online shopping, Millennials appreciate well-defined retail store designs that allow effortless navigation. They don't want to waste time looking for items and instead seek clearly organised merchandise that simplifies the overall shopping experience. 70% of millennials dislike noisy, cluttered and disorganized stores. Here at greater group, we adapt 4 retail principles to design stores that are efficient and easy to navigate. It is crucial to equalize the space and provide clever zoning. Customer shopping behaviour is also key in how we direct them around the store through strategic planning. As millennials value organized product display, the art of planogramming is crucial to be applied, along with clear visual communications. Lastly, of course, the in-store experience is important, which I am covering in the next point.

greater group has designed the next generation store in accordance to the "Science of Retail".
4. MULTI-SENSORY
Millennials crave experiences that stimulates their senses – something that cannot be achieved online. Despite all its convenient ease-of-access perks, the two-dimensionality of e-commerce cannot compare to the multi-sensory experiences made possible through conventional in-store shopping.
In a study by Mood Media, Generation Z (those aged 18-24) and Millennials offer an enticing opportunity for retailers, with these generations being the most affected by sensory experiences across the board. Combining music, visual and scent sensorial elements increases consumer dwell time, with 75 percent of consumers citing they've stayed longer in a store when such components were in place.
Over the past year, we have seen more retailers adopting immersive and multi-sensory in-store experiences and we see this momentum set to continue into 2019 as smaller retailers try their hand at experiential, spurred on by the success of the retail giants.
Case Study: Pandora (Sydney)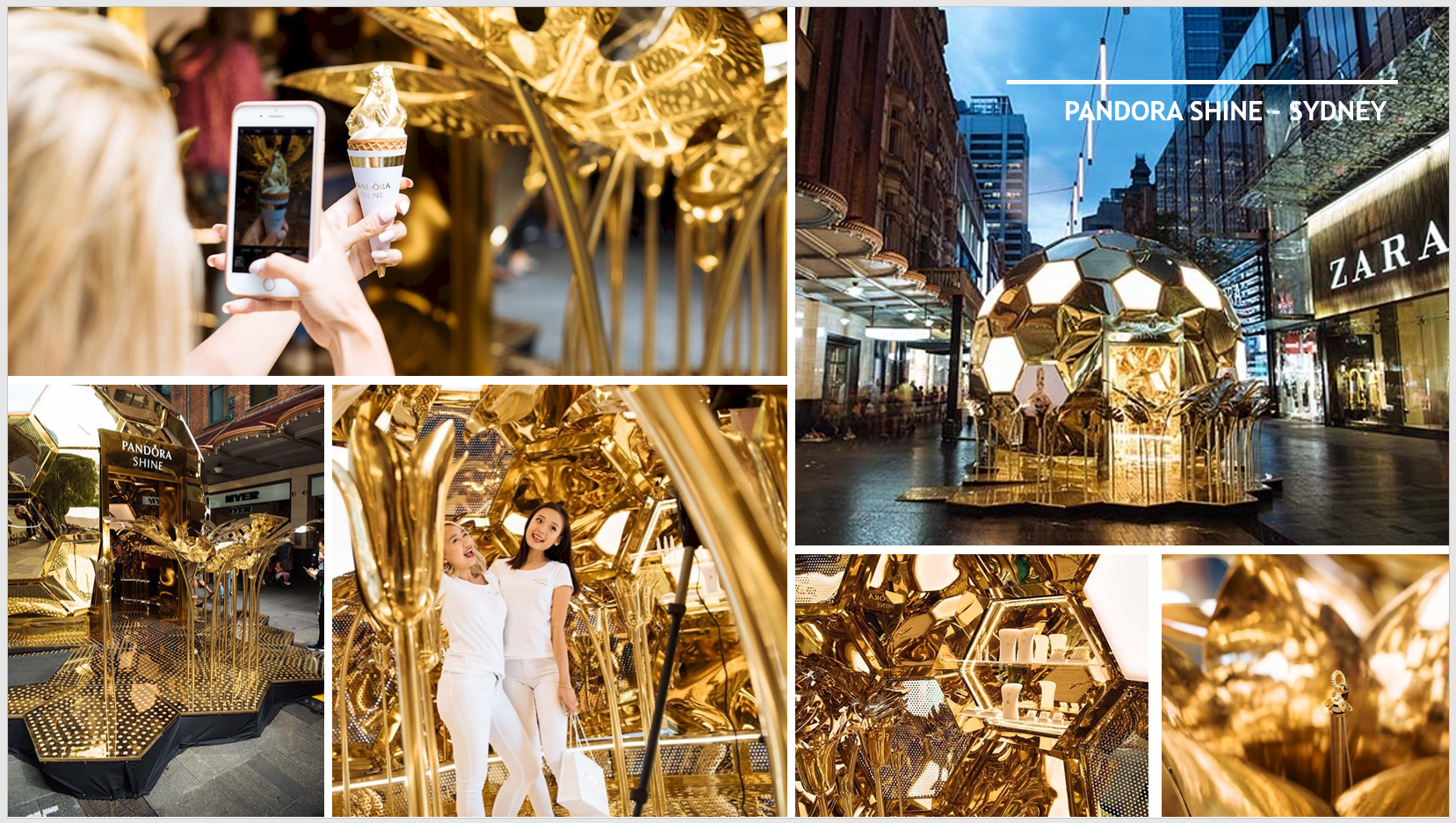 This Pandora pop-up to celebrate a new product launch at Sydney's Pitt Street Mall was inspired by bees, features such as scented golden flowers and a soft hum of bees buzzing in the background help to add dimension to an immersive shopping experience. The strong accents of gold throughout the design proved very popular among younger customers, who immediately took to snapping pictures against the luxurious backdrop to share on Instagram.
5. SHAREABLE EXPERIENCE
The final key point in capturing the attention of Millennial shoppers is creating unique experiences that allow customers to interact and connect with the brand, forming valuable relations to improve the chances of continued support in the future. Previously, the main role of stores was to sell products, but in the age of social media, brands need to tell stories.
Case Study: Love, Bonito (Singapore)
I'm a big fan of Love Bonito's store design in their latest Funan branch in Singapore. Following through with the distinctive shade of 'Millennial pink', they created a beautiful, highly photogenic space that reflects a trendy modern-retro vibe. Aside from the visual aesthetics, they seamlessly incorporated digital technology to facilitate entertaining customer experience. The AR-walkway paves the way for an interactive digital experience and the infinity mirror room is the perfect backdrop for an arty Instagram-selfie. Through the massive fitting area with its digital runway backdrop along with the regular community workshops, shoppers' dwell-time is increased, making it not only a place to buy things, but also an engaging hub – a place to be entertained, hang out and share experiences.